Demand for Signs is on the Rise!
Throughout Southern California, the demand for No Trespassing, Private Property signage is on the rise!  Based on the surge of requests being  received (at the time of posting this article) by building owners and property managers of commercial, retail and multifamily residential properties, an uptick of vandalism, theft, littering (including human waste),  loitering along with drug use and lewd and lascivious behavior has many concerned and taking action to protect their tenants and those who are legally and lawfully using their properties.
Why are no trespassing signs required in California?
California Penal Code Section 602 PC includes over thirty different forms of trespassing, but all adhere to the same general elements of willfully entering or remaining on someone else's property. Landowners should have either "No Trespassing" signs posted, and/or enclose their land with a fence.
Penal Code 602 PC is the California statute that defines the crime of trespass. You commit this offense if you enter or remain on someone else's property without permission or right to do so. A violation of the law is typically charged as a misdemeanor.
California Penal Code Section 602 PC
California law recognizes and respects the sanctity of a person's private property. As a result, it is a crime to enter or remain on another's property without permission.
Due to the fact that most properties experiencing issues aren't fenced in as the code requires, it is initial contact with local police (whether they visit the property or not) that identifies the need for signage.  Local police will take action and enforce trespassing laws as long as proper signage is posted.
In order to prepare a Quote for this request, we need to ask a few clarification questions to ensure that we have a clear understanding of client objectives, the specifics associated with the need or project, the hardware needed and the complexity of installation.
How many signs are required?
In more simple and basic scenarios, an exchange of emails and a phone call can be enough to assess needs and provide a quote.  In more complex situations (i.e. large property, uncertainty of sign placement or method of posting) a site survey is needed.  (Parking violation signs are typically placed at each entrance to the property, private property signs can be combined with these and they may also be added in areas where there are sidewalk or foot path entrances and depending on the property/building type, they may also be displayed in prominent locations around the building like the four corners.)
Method of Posting/Presentation
Here are the more common methods of posting or presenting these signs:
Wall mounted (type of surface, i.e. brick, concrete, siding/metal)
Post Mounted (Existing or New Post(s) – type, u-channel, round, square and custom to match other posts on property)
Other Mounted (i.e. Chain Link Fence, Iron Fencing, Fastened to High Tension Cables – Parking Garage etc.)
If post mounted, are new posts required (is there a preference type to match other posts on the property, i.e. square, rectangular, round, what dimensions and what material, i.e. aluminum, galvanized?) and are posts going into:
Soft-Scape – Can be pounded into lawn/grass or a planter bed or will concrete be used?
Hard-Scape (asphalt or concrete) – Will bolt plates be adequate or is coring required?
If post mounted in a parking lot, are there concrete vehicle stop bars properly positioned to prevent damaging the sign?  If post is being mounted in an area where vehicles can strike it, is a bollard needed?
Sign with Multiple Messages Combined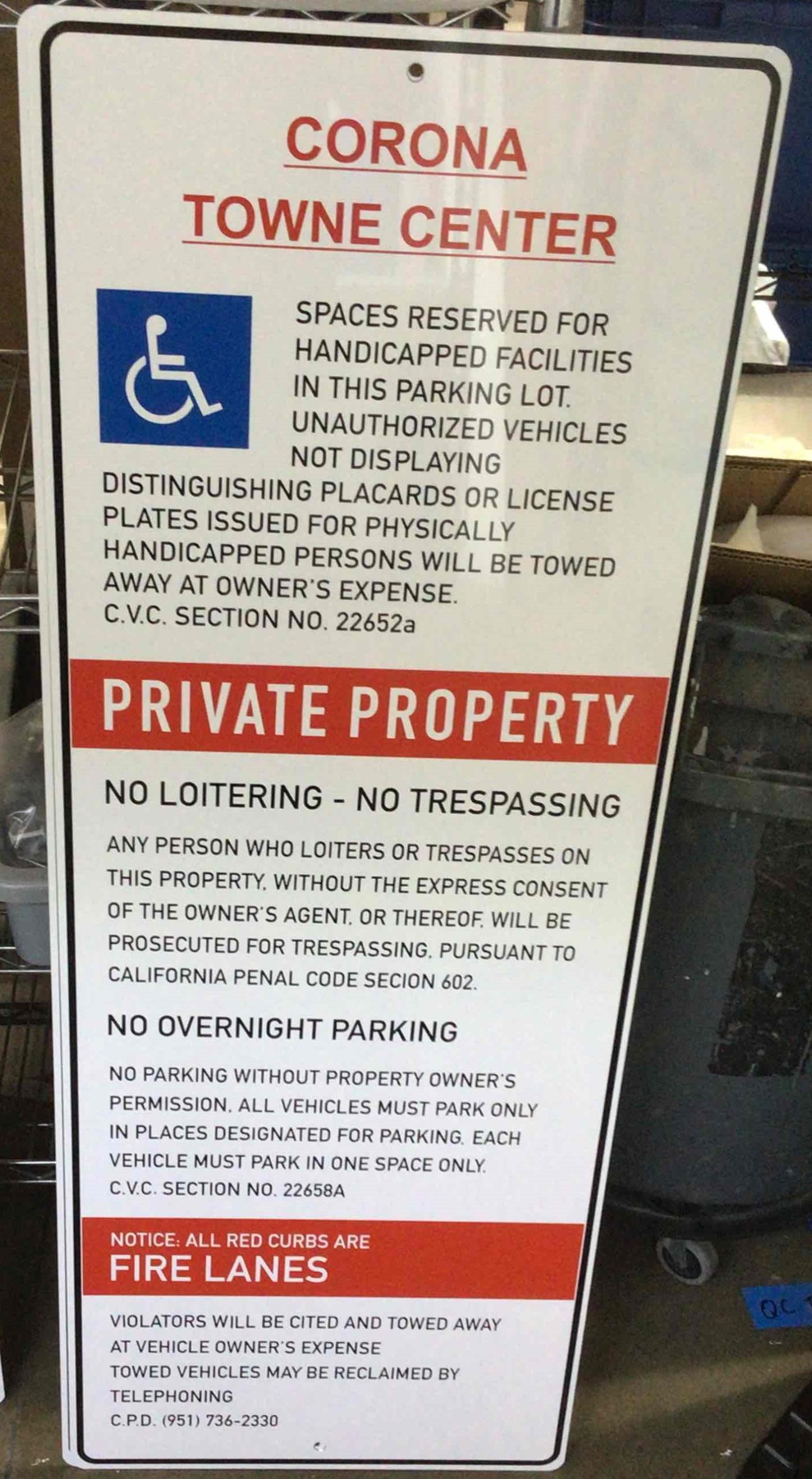 Wall Mounted Private Property, No Trespassing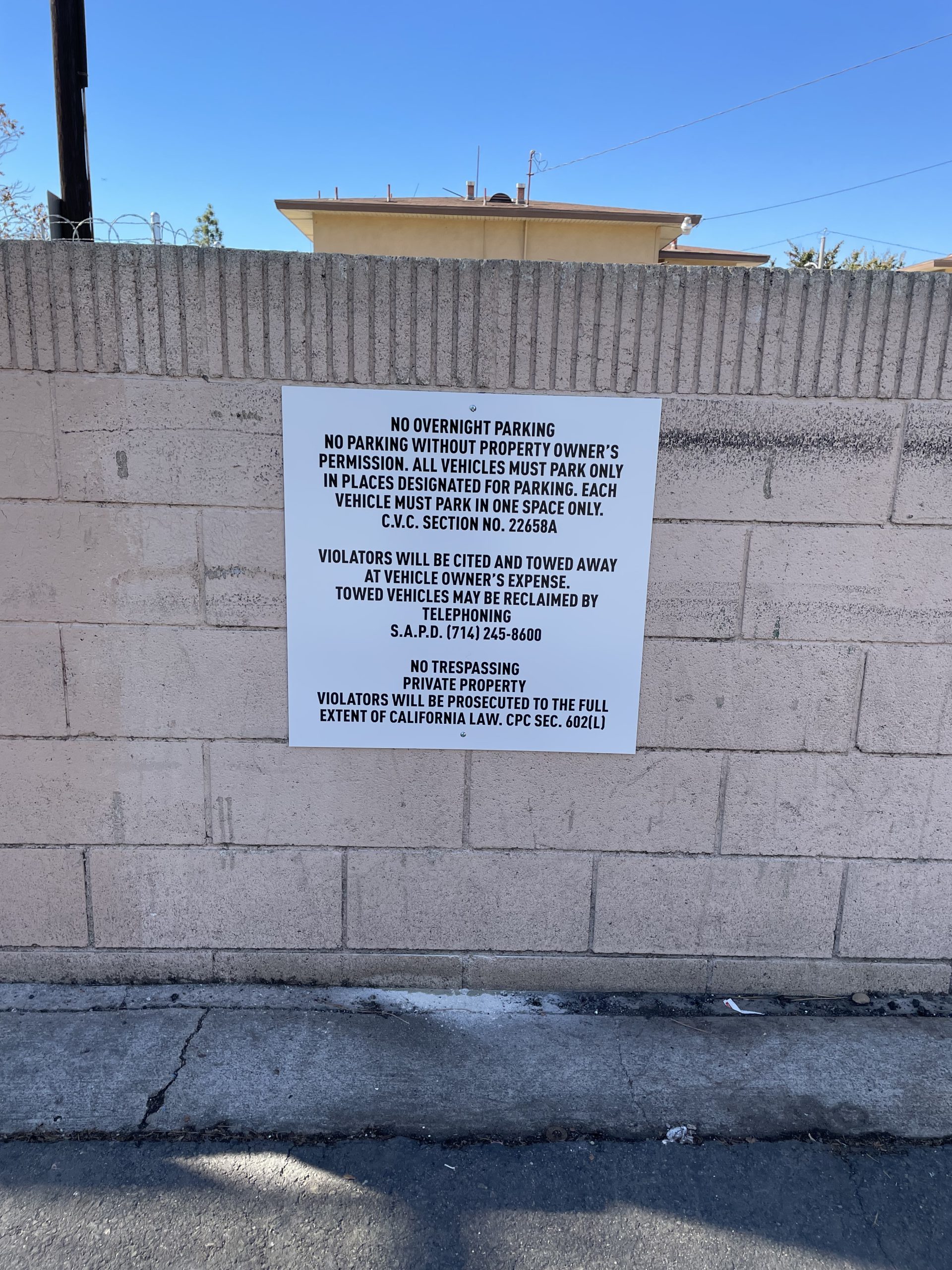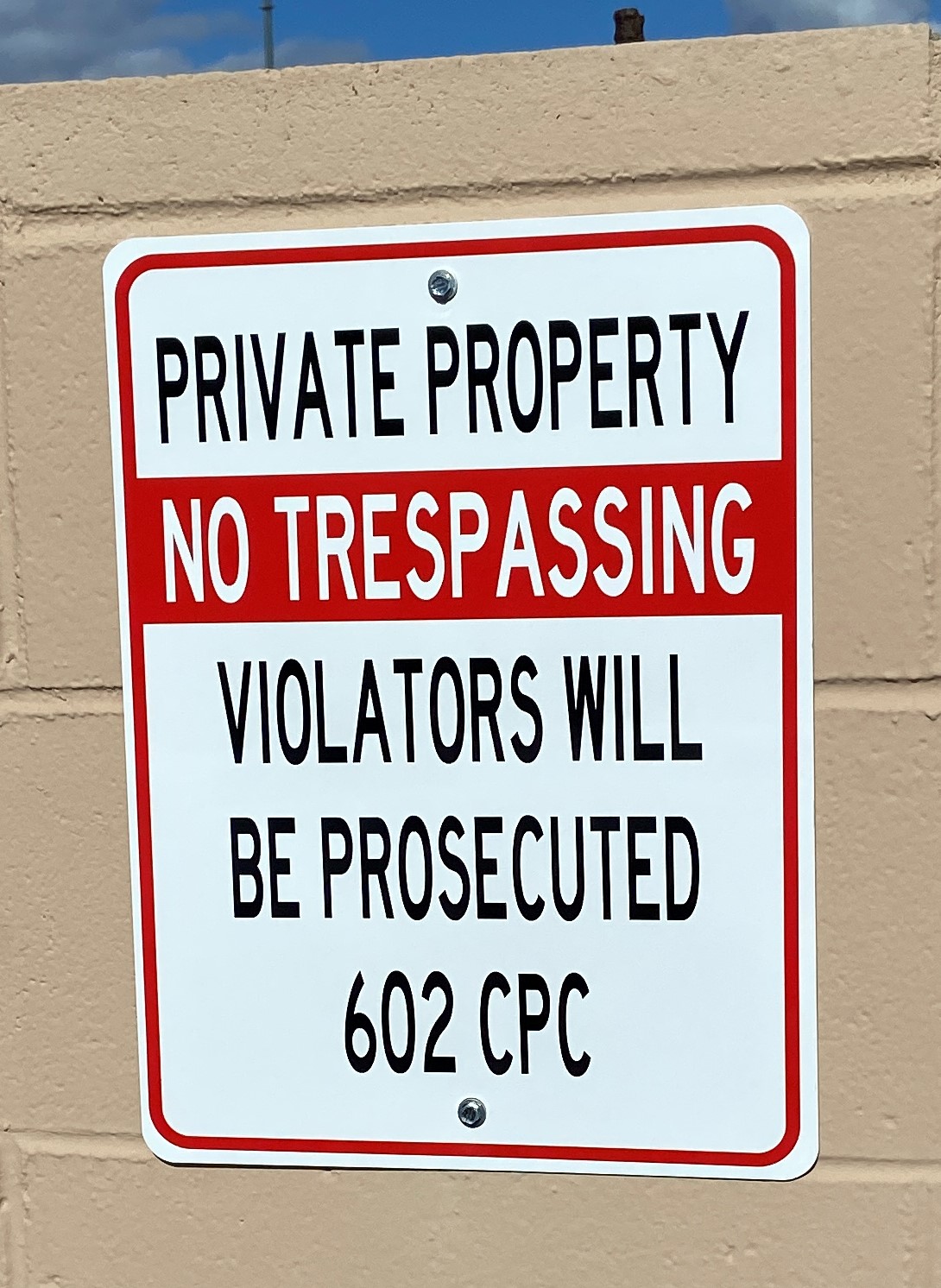 Post Mounted with Bollard Private Property, No Trespassing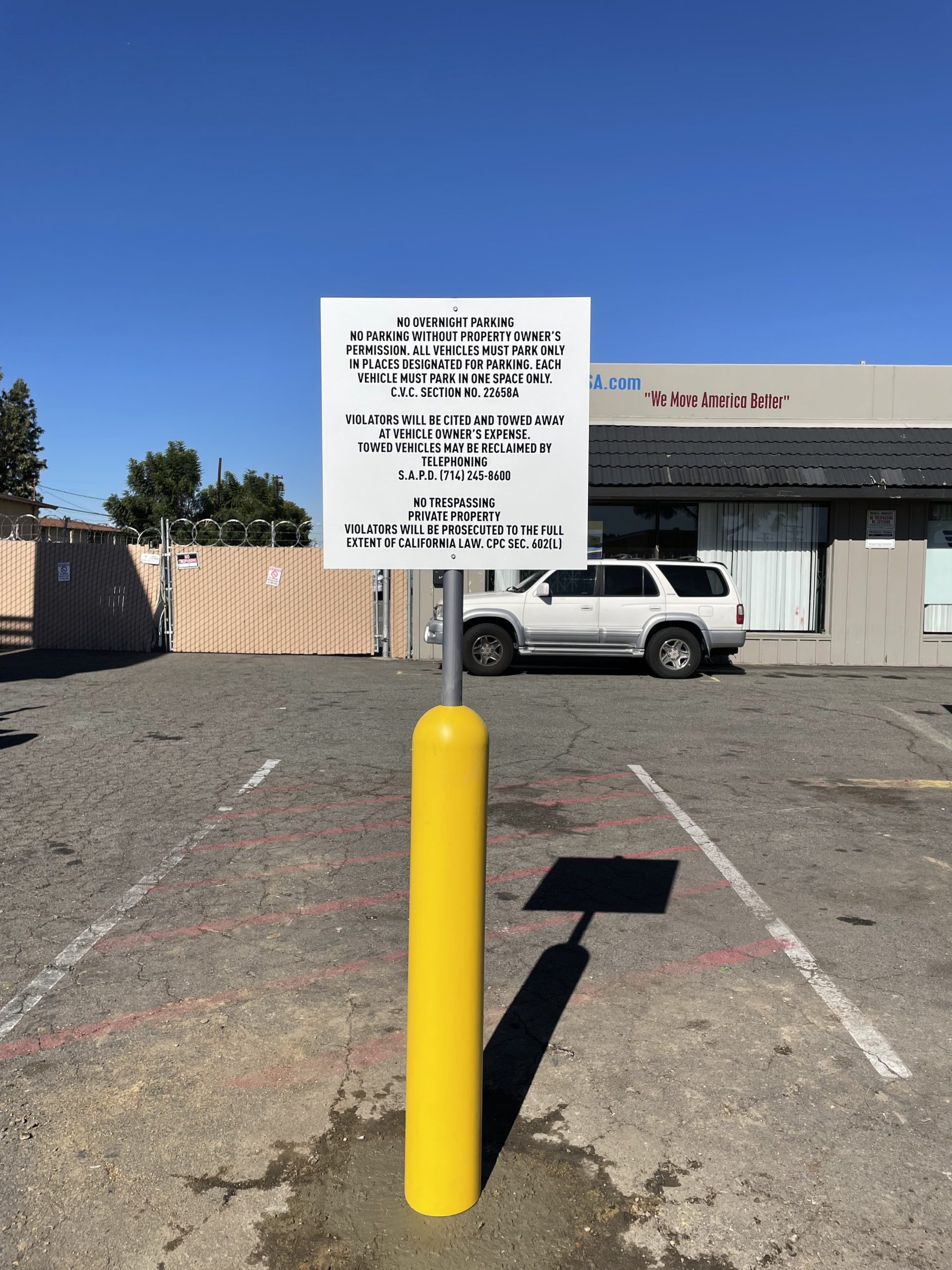 You Get What you Pay For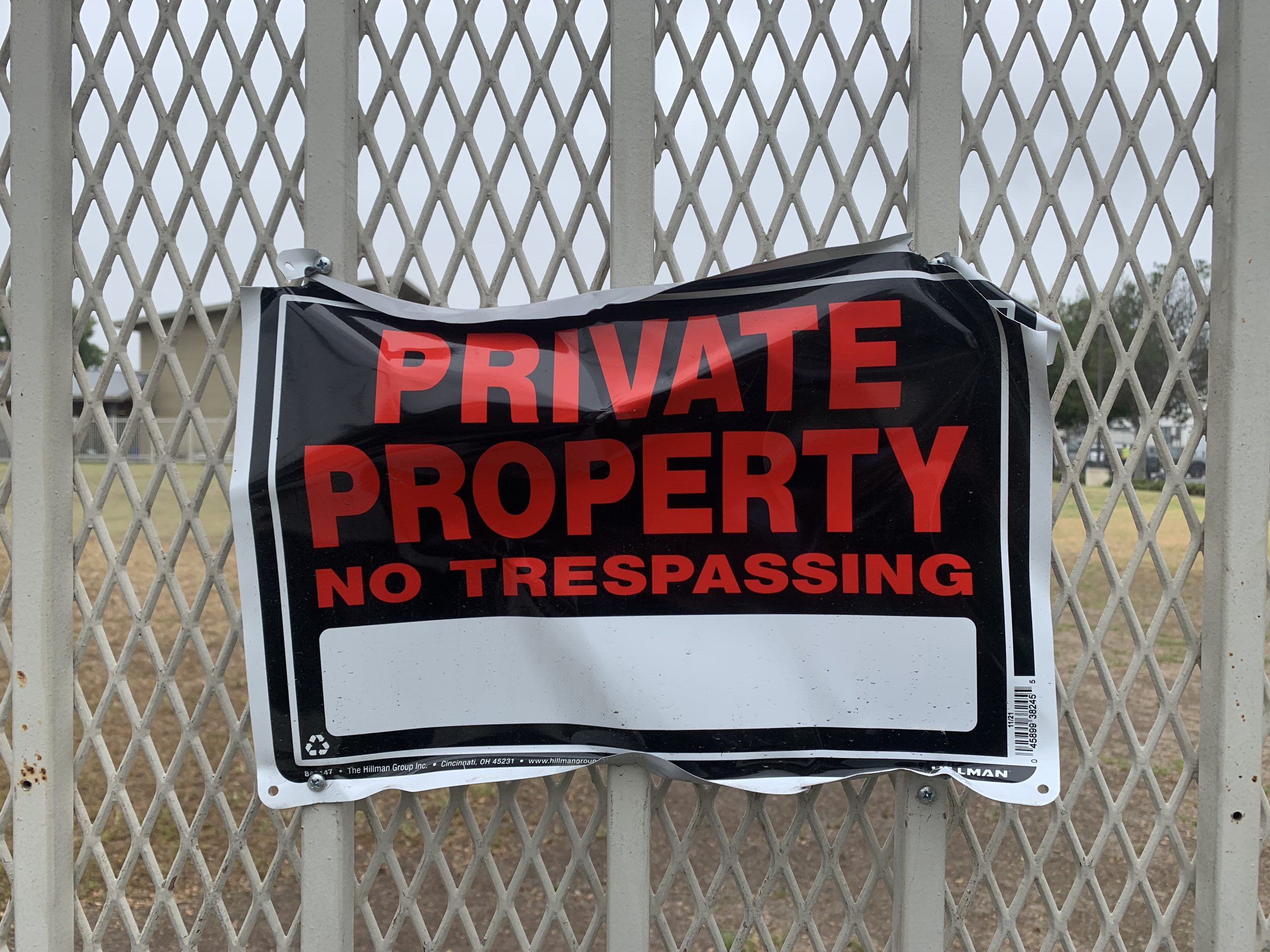 We appreciate that the need for these signs and the expense that clients incur isn't something they planned for or want to do.  With that in mind cutting corners or costs may not be the answer.  As a fabricator of custom signage, we do not stock or sell signs off the shelf!  Each sign is designed and an artwork proof must be approved by the client before the signs are fabricated.  There are certainly times when it makes perfect sense to economize and purchase signs online or at a retailer.  Unfortunately, stock signs are often focused on the customer who wants to purchase signs at a low price point and they aren't usually made with materials that will stand up to abuse and vandalism.  Considering the reason why these signs are required, and the purpose that they are intended to serve, economizing may result in the additional expense and inconvenience of continually having to replace the signs.
To further discuss your signage needs or to arrange a mutually convenient time to schedule a site survey, please contact us by phone or email.
address:
111 W. Dyer Road, Unit F, Santa Ana, CA 92707
phone:
(714) 380-3990 Ext. 109