What are Channel Letters?
Customized, self-contained, three-dimensional metal (aluminum or stainless steel) or plastic fabricated object with individual, standalone structure. The returns, or letter sides, are made of coiled aluminum sheeting and custom painted. The face and back are usually acrylic but can also be aluminum, or nonexistent. Channel letters are commonly illuminated using LED's however, they can also be non-illuminated. When illuminated, each character has individual illumination. A channel letter can be any letter, number, or other character (including logo symbols) that, when combined with other similar characters, represents a sign.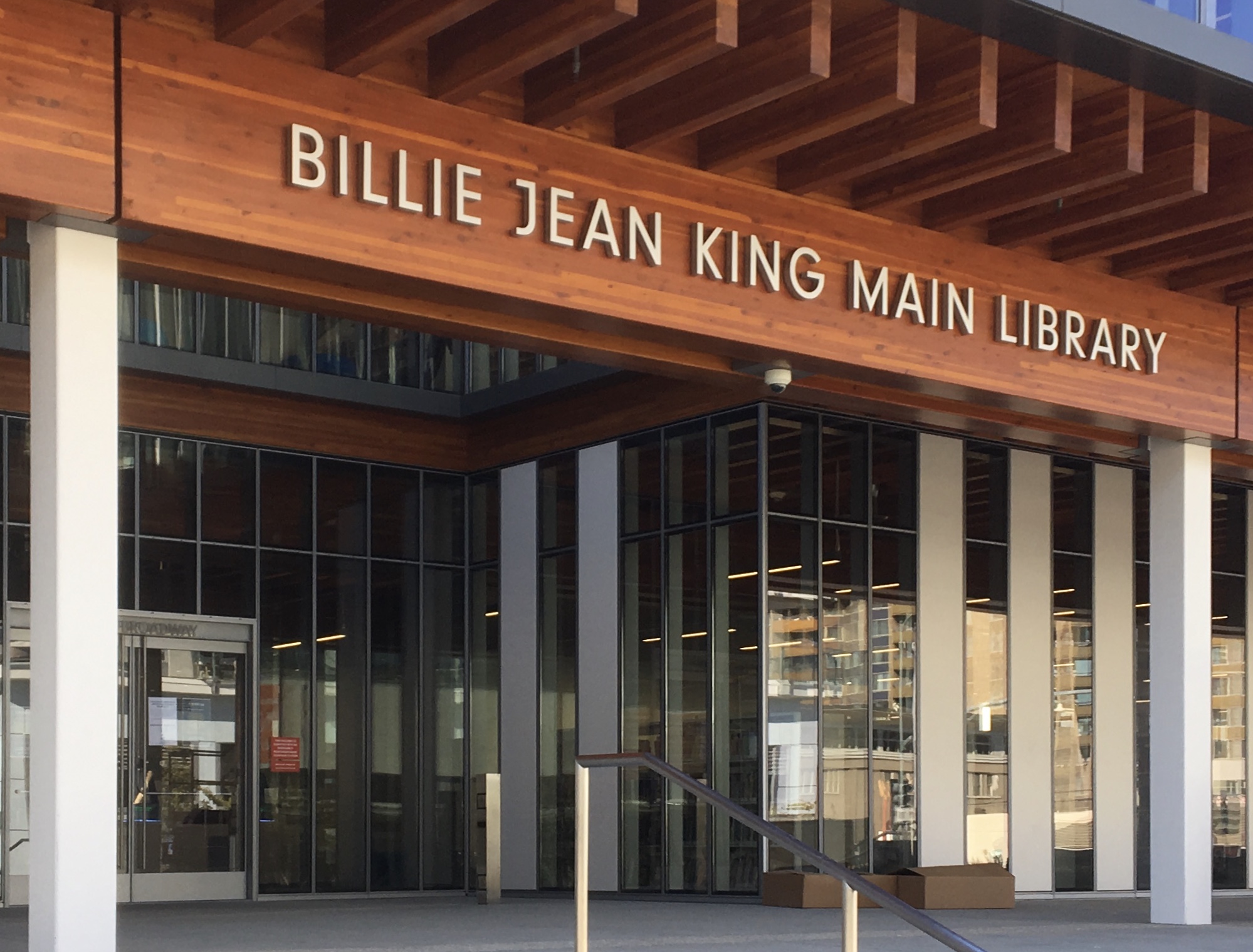 Where are Channel Letters Commonly Used?
Channel letters are often found on storefronts, strip malls, offices, commercial and public buildings. They can also be incorporated with other ground signs like monument or pylon signs. Ideal for exterior usage, however, they are also used for interior applications like storefront entrances inside malls and in corporate lobby or reception areas.

Appeal of Channel Letters
When it comes to signage, visibility is the key objective. Channel letters are the most attention-grabbing signs. Amongst the various sign types available, they are noticed first, and they are the ones that are more memorable. Factors like three dimensional shapes, lighting and shadowing effects makes them standout and makes them easier to read. Here are some other reasons why they are the preferred option for exterior building signage:
Professional appearance that designed to the client's unique specifications is more modern, cleaner, and consistent looking.
Customization makes it possible for characters and logo symbols to follow branding standards.
The presentation can be tailored to match specified colors using materials (paint, vinyl, acrylic) selected by the client.
Channel letters that are made with top grade materials are more durable and last longer than any other sign type.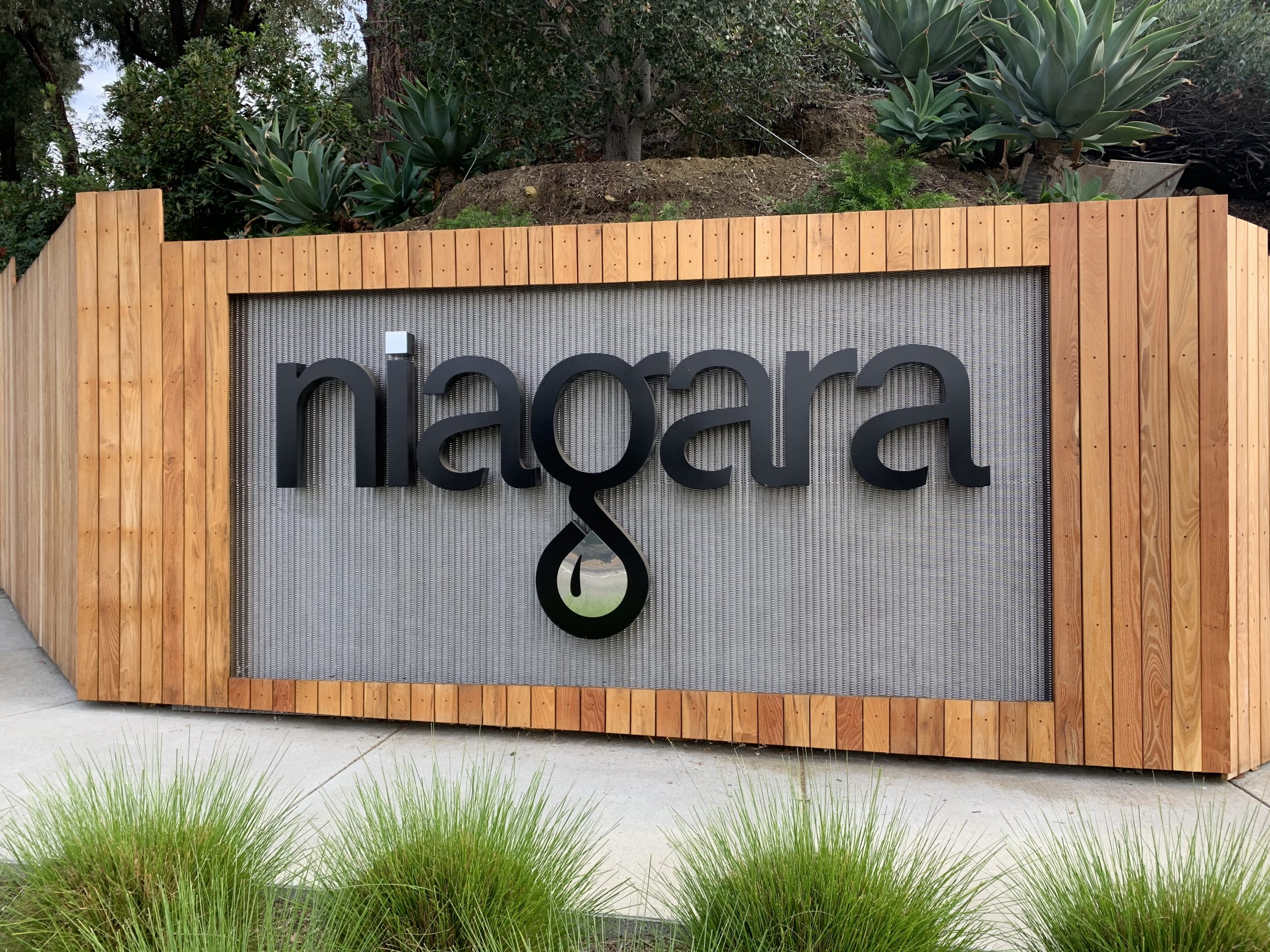 Types or Methods of Illumination
Front-Lit (Standard Channel Letter)

Face of each letter is fabricated with translucent acrylic and vinyl, so light shines out through the front.
This is the most common type of channel letter.
Each character is aluminum on the back and sides.
Modern, front-lit channel letters are illuminated internally with LEDs, lighting the "face" of each character.
The sign face is commonly held in place with aluminum or plastic trim caps however improved manufacturing techniques also make it possible to fabricate a supremely cleaner trimless edge.
Trim cap is available in a wide assortment of colors to help you customize the appearance of your letter set. Non-standard colors can be custom painted if needed.
The sign face itself is constructed out of one of two types of plastic: polycarbonate or acrylic. Acrylic is shinier while polycarbonate is stronger.
Usually, the color elements of the logo are done with cut-out translucent vinyl or, if the color of the face is solid, the acrylic itself can be in its specific color, as long as the color matches the standard colors available.
Because of the materials used, standard front-lit channel letters are highly customizable.

Reverse-Lit (Halo-Illuminated)

Face of each letter is nontransparent, while the back is translucent, allowing the light to diffuse through the back of the letters instead of the front.
Light from the individual characters is cast from the back of the letter and shines onto the wall behind providing an excellent ambiance that is softer and less overpowering.
Halo-lit channel letters can also be mounted on top of a surface (i.e., monument sign, wall, or fabricated base) by attaching the base of each character to the mounting surface, with a full panel or individually flat cut out letters mounted behind each character to provide reflection, for a free floating, decorative effect.
They consist of aluminum faces and returns, which are lifted off the wall or raceway allowing the LED lights inside them to shine out the sides and cast a glow around each letter, and thus creating a halo effect.
Halo-lit letters are often used for sign projects that require a unique, classy, or distinguished look or brand image.
They are also required or specified in locations where minimizing light pollution is considered essential.

Front and Reverse-Lit (aka Combination-Lit or Dual-Lit)

This combination of a standard front-lit letter with the halo-lit letter is considered flashier and fancier.
In instances where multiple lighting effects are desired (i.e., yellow illuminated faces with a blue halo effect) this sign type delivers.
The sides of each character are aluminum, the faces are polycarbonate, and the back of the sign is open to reflect the LED illumination off of the wall.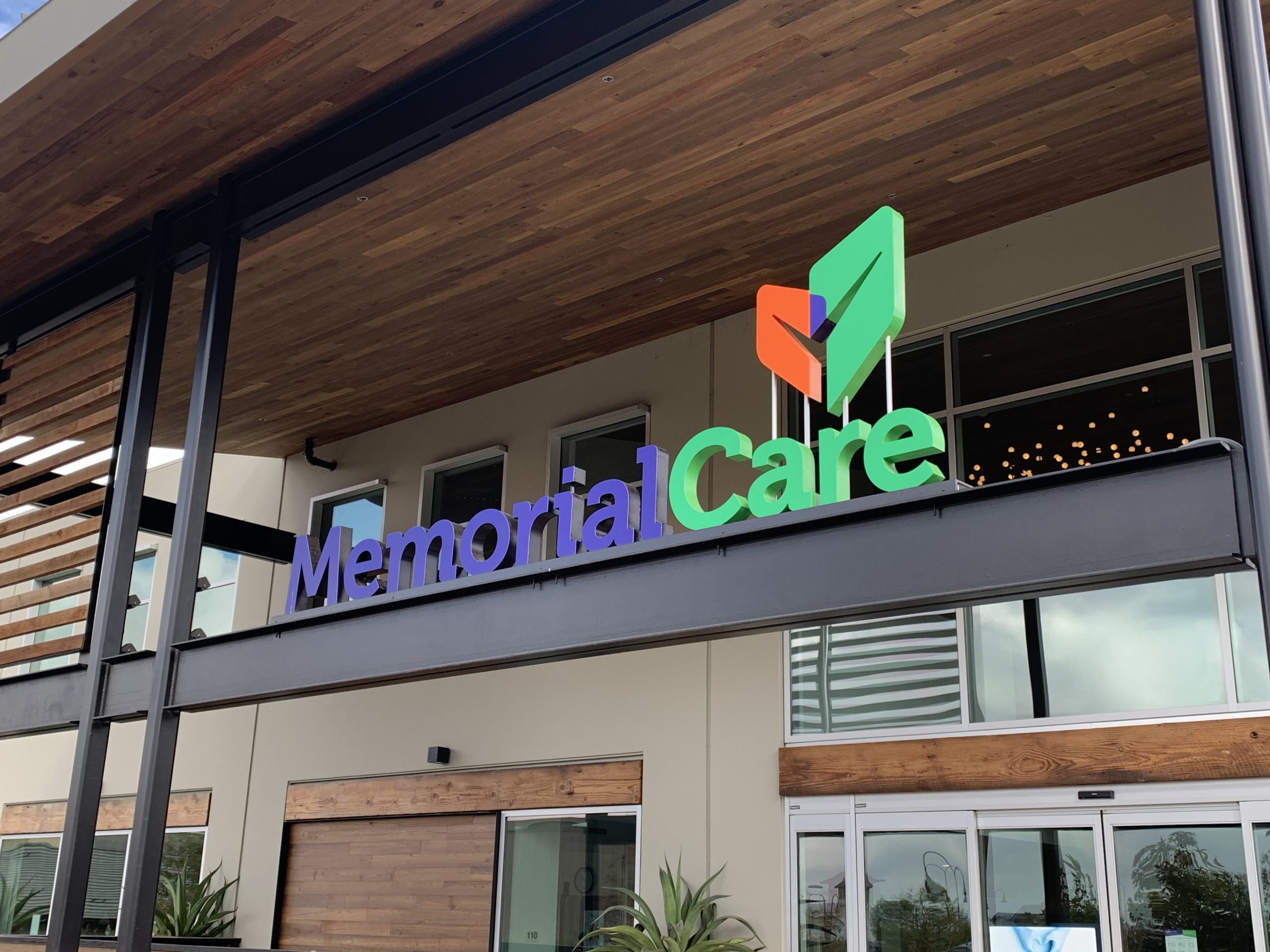 Open Face Lit Channel Letter

The face of each character is left open, so light shines out through the front and the dimension of the inside of each letter is visible along with any light source.
The back and sides of the open-lit channel letter are both aluminum, just like the standard front-lit channel letter; however, in this scenario, the sign is usually lit with neon lights rather than LEDs.
The only other major deviation from the standard front-lit channel letter here is that the sign face is either clear or has no sign face at all so that the internal exposed neon can be viewed.
This sign type is more frequently used for retail applications, it is much less likely to be used for commercial applications.

Cloud Channel Letters

This is one large Channel letter built with the same materials, but instead of all of the letters being separate, they have a thinner outline around them making them all one piece.

Mounting Surface
See: Mounting Surfaces for Exterior Building Signage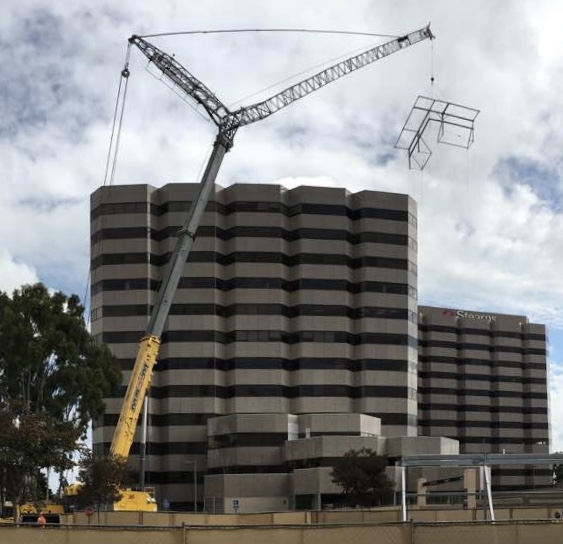 Mounting Methods
A significant amount of knowledge and experience is required to ensure a secure and permanent channel letter installation.
Direct or Flush Mount

This is the most common method of installation.
The channel letters are attached directly to the building.
Halo-Illuminated Channel Letters are spaced from the building using spacers.
Power supplies are housed behind the bulkhead wall.

Raceway or Wireway Mounting

A raceway is a custom fabricated, rectangular shaped, metal sign mounting structure.
Channel letters are mounted and fastened to the raceway, and it also serves as an enclosure for both signage electrical components (such as power supplies) and wiring.
Preferable channel letters are mounted directly to the wall surface they are being installed on however, some building owners require raceway channel letter mounting and in other instances due to individual situations (i.e., uneven mounting surface), they are required in order to complete the installation.
Raceways are typically custom painted to match the color of the building, so they blend into the background.
In some instances, raceways are preferred since they reduce the number of wall penetrations needed. The Master Sign Program or signage clauses in the tenant lease may specify the use of a raceway.

Wireway Mount

Landlords may require a wireway which is thinner and broader than a raceway (like a backer panel).
Wireways require more wall penetrations than a raceway, but less than direct mount.
Power supplies are normally housed behind the bulkhead wall.

Spacer Mounting

Adds dimension and effect to lettering.
Allows lettering to be installed over uneven surfaces such as stone.
Typically spaced at 1''-2'' off of the wall to achieve a "Halo'' lighting effect illuminating light from back of letter onto wall surface.

Mounting Pattern

Whenever possible, a paper mounting pattern is prepared in advance of the installation, and it is used by the installation team to align and level signage placement prior to starting the installation or drilling any holes.
The mounting pattern ensures that holes required for fasteners are properly positioned and that placement conforms with the approved city permit.

Electrical Access and Connection

To allow for illumination each letter will require an electrical feed which must be gathered and connected to each other letters behind the wall, most commonly in an attic directly behind the sign area.
A 120v/20amp dedicated sign circuit is required by NEC code.
A lighting control such as an astronomical time clock or photocell also will be required.
Needs a permanent access door/hatch to allow for future service.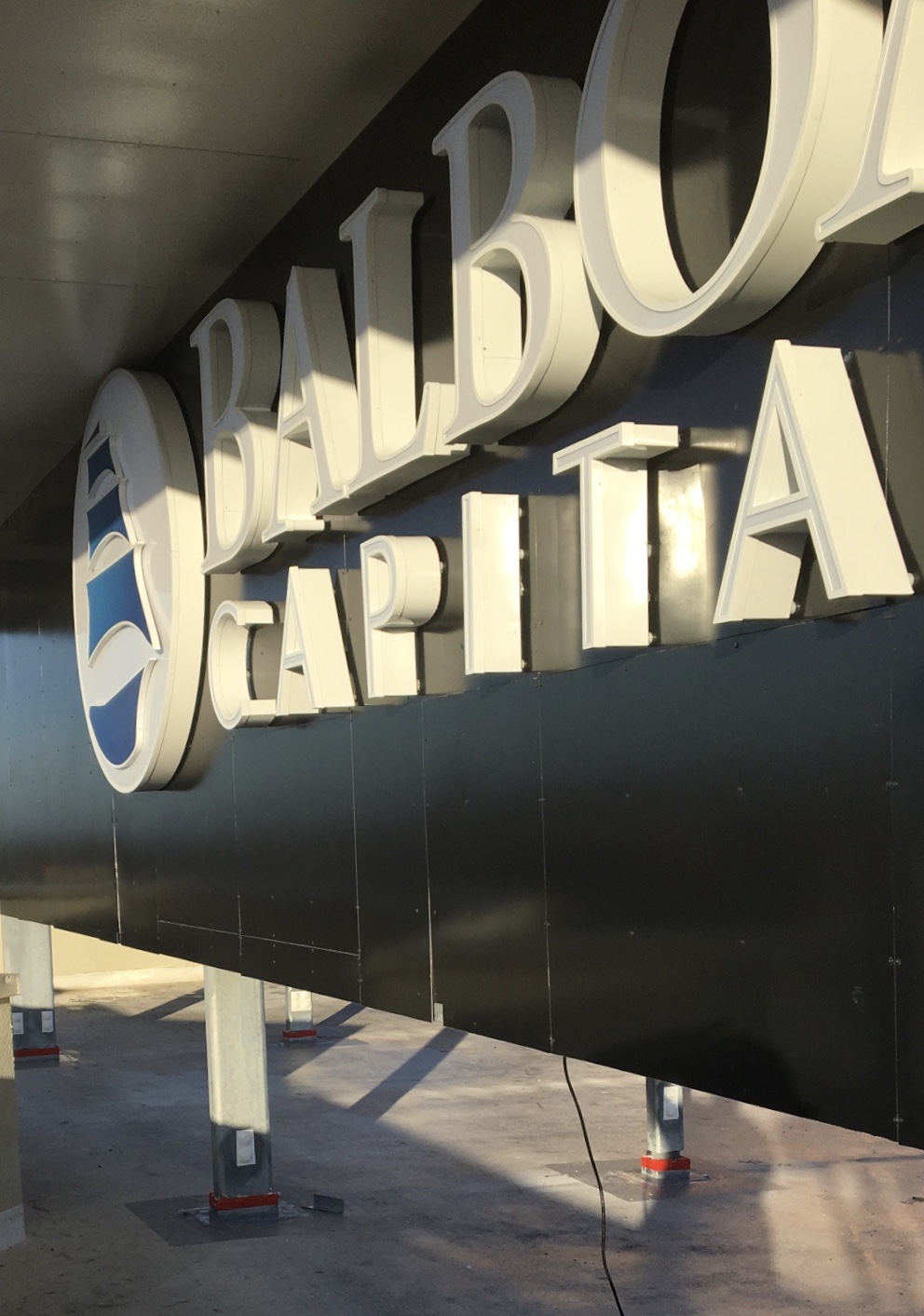 Exterior Installation Location Options
Canopy or Marquee Sign

Extends over the building's entrance from the exterior wall.

 Parapet Sign

Mounts to the edge of the building's roof on a wall or railing.

Projecting Sign

Mounts to the building, extending down at a perpendicular angle.

Roof Sign

Mounts to the building's roof.

Wall Sign

Attached to the exterior wall of the building

Eyebrow Sign

Those found above the main entrance to the building, or at the first or second floor level of a multi-floor commercial building.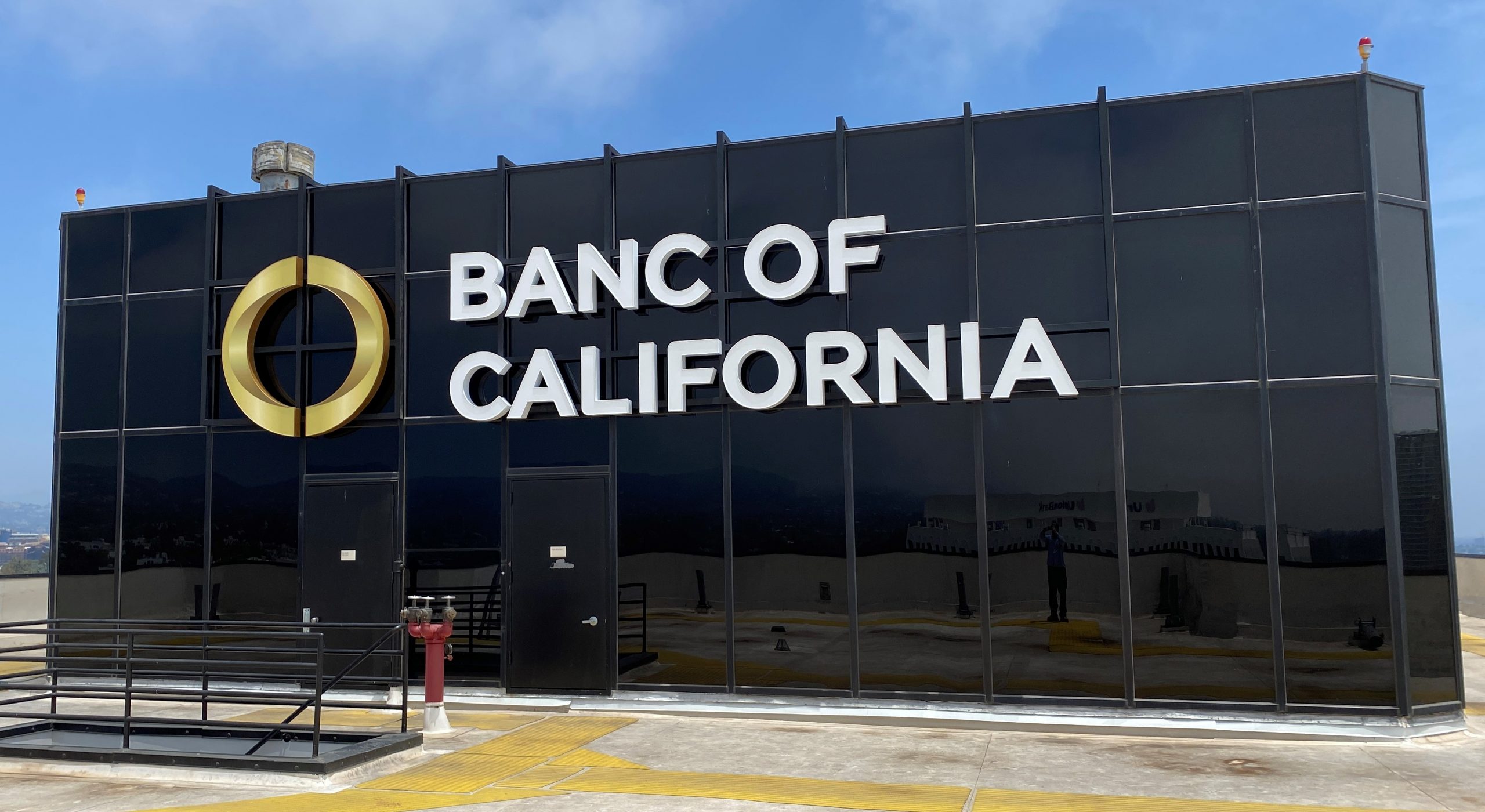 Superior Signage Solutions – The Sign Specialists Corporation Difference
Unlike the majority of smaller sign shops, at Sign Specialists, we manufacture over 90% of everything that we sell under our roof in Santa Ana, California. It is common practice for smaller sign shops that aren't UL Certified and lacking the equipment and expertise to fabricate illuminated signage, to do the following:
Price the project out to 3 wholesalers (meaning that the wholesalers make a profit off the signage)
Go with the most competitive bid and then add the desired mark up to the product (meaning that there is less concern about the customer's purchase and the reseller makes a profit off the signage)
As your sign vendor, we control all aspects of material selection, fabrication, quality control and installation. We use superior quality materials and components to ensure that you get a better-quality sign for your money.
There are a number of factors that drive channel letter pricing and for many of our clients, it can be challenging to make a fair comparison because they have never had any exposure to signage and therefore, do not know what to look for or consider when evaluating product offerings.
To begin with, verifying the physical sizing of the letters is important. Our initial goal is to provide you with the maximum size allowable. If resizing or reengineering is required after this initial step, we are happy to work with you on this.
The components in the finished product make the difference between a quality sign that looks aesthetically pleasing, will hold up longer even when faced with extreme weather conditions, will maintain color for longer periods when exposed to greater amounts of sunlight, that illuminates consistently and requires less maintenance over time. The components include:
We only use top tier products, from recognized brand name LED leaders in light technology.
The LED drivers we use are the best grade of drivers for consistent performance and less maintenance.
We understand the science of lighting and we guarantee no hot spots (areas where light shines brighter) and no light leakage through gaps and seams.
The acrylic used is high grade material, it's thicker, has truer color (life span of 7 years vs. 2 years) and it holds up better in extreme weather/wind and extreme sunshine.
Recognized brand name, high grade vinyl, that is less prone to fading and peeling and maintains color much longer.
The aluminum used is thicker for solid construction and long-lasting durability (thickness varies depending on letter height, larger letters require thicker walls for greater integrity).
Polyurethane automotive paint that provides a long-lasting, UV resistant finish that boasts unsurpassed color and gloss retention.
Paint booth application that is free from contaminants and intended to last like you would expect an automotive finish to.
Use 1" trim cap whenever possible because it holds the acrylic face in place and prevents wind vibration and breakage.
The process used for fastening the face to the channel is a critical factor in design and long-term durability and our process ensures that acrylic faces are snug and well enclosed, so they don't rattle, or vibrate and they keep the elements out.
Each channel letter is as seamless as possible minimal or zero screws or rivets for superior aesthetic appearance.
Beyond these factors there is the company providing the project management and installation. We are a licensed sign contractor in the state of California, and properly bonded and insured to manage projects like this. Quality control throughout every step of the design and fabrication process is critically important to us.
[/vc_column_text][/vc_column][/vc_row]