Designing custom signage is unique compared to other design occupations in a variety of different ways. Signs are crucial for any business with an office, each sign serves an intended purpose, some are required for compliance and regulatory reasons and others serve a variety of other needs.  On average, our products have a longer lifespan than those of other design occupations like labels or advertisements.  It's not just design on screen that the Designer must consider, they must also consider the materials and methods of fabrication.  For our clients, the result of the Designer's work is more often permanent, signage will be readily visible to the public eye on a constant and daily basis.  Concept designs must be built and occupy 3-dimensions, so there's a constant blending of physical constraints with design needs.  Sometimes the finished products look significantly better than what the Designer imagined.  This makes the designer appreciate how skillful our fabricators are.  There can be anticipation followed by a great feeling of satisfaction to finally see the finished product.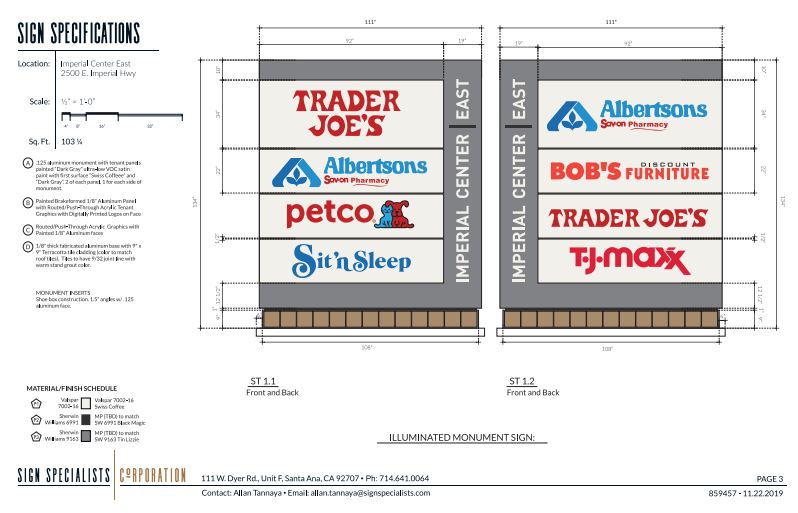 When asked, what they enjoy most about designing signs or what aspect of their work provides them with the most satisfaction our Designers responded a variety of ways.  Even though most people use GPS to get to destinations, the first thing they do when they arrive is look for signs.  Instead of a static display the result of their work has function, knowing that the work that they do is actually useful to our clients is rewarding.  Seeing the finished product years after the designs are done always serves as a reminder of the unique challenge that individual design projects pose.  This is a testament to the durability of the products we produce.  The learning experience, seeing the volume of custom signs and the problem solving necessary provides great satisfaction.  With backgrounds in graphic design, there is technical knowledge that designers pick up along the way.  They thankfully apply this valued knowledge to future projects.  They get to expand their knowledge in the areas of construction, calculation, art, and computer skills.  Our passionate Designers are always up to challenge of learning new aspects of their profession.  What many love most about designing signs is the visibility.  When they go out with friends or family they proudly say, "hey, this is one of the signs that our company built!"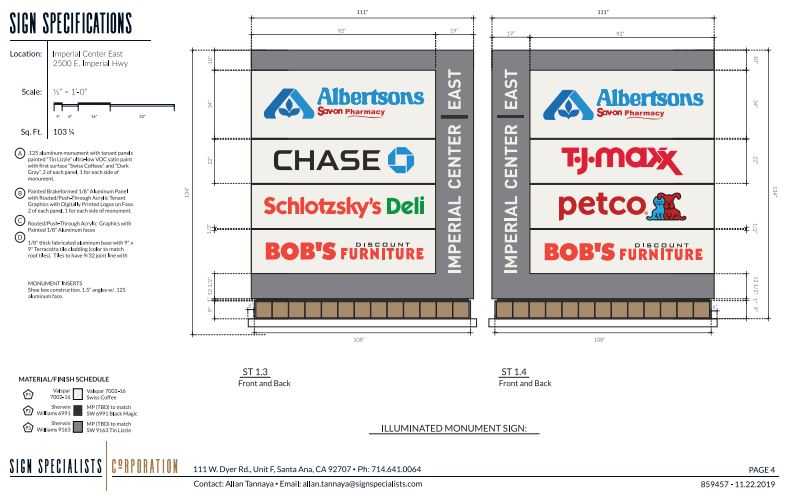 Two projects are seldom alike so challenging aspects of the profession are unique to each individual Designer and each of them have different experiences and perspectives on what stretches them.  Designers usually depend on or collaborate with a third party which is often the Sales Representative and/or Project Manager.  Although it requires an investment of time, having the opportunity to review the project designs with the client, aids in ensuring we meet client expectations and achieve desired outcomes.  Many of the projects that we work on have deadline dates and the volume of workload places time constraints on each Designer.  The complexities of a Master Sign Program challenge even the most seasoned Sign Designer.  In order to tackle an extremely difficult design project, finished designs might almost resemble production drawings.  The depth of detail required stretches beyond what is typical and includes, colors, materials, mounting and fabrication.  Topping the list of difficulties for exterior signage is first locating and then interpreting the city guidelines and restrictions.  Understanding city limitations is very important or submittals risk being rejected.  Building a monument or a custom sign with multiple layers is rare and these types of designs present an exciting challenge to our graphics team.  Amongst the many unique projects that we have designed, a self-contained solar powered monument sign tops the list.  The client had specific design aesthetics they wanted to incorporate.  They had to be blended artfully and creatively with the functional needs of an electrical system and components which were unknown to us at the start of the project.  Then the City Planning Department threw in a few slight modification twists to suit their requirements.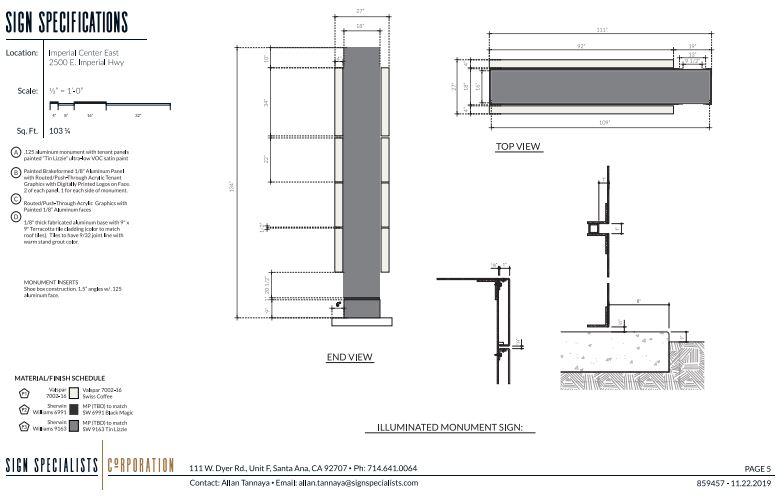 Graphic Designers rely on the information provided to them by other key project stakeholders and the more common and critical pieces of information they rely on for challenging or complex projects has standards and variables.  Some clients know they need a sign however, they don't think about the most practical or useful options.  It is the responsibility of the Consultative Sales Representative to draw this information out of the client or guide them in the direction that will best suit their ideal outcome.  The Designer will want to know, what the client's need or intent for the sign is.  What is the objective or purpose for the sign?  They will require customer supplied artwork, or art files from previous work done for the client.  They will need to know the message for the sign so sign copy and/or pertinent documentation will be required.  In instances where sizing is to be determined, the intended viewing distance for the design is needed to determine how large the sign or lettering should it be.  If the sign needs to be serviceable this will have a bearing on design specifics.  In cases where signage is considered temporary the designer will need to know what "temporary" means to the client.  Having all the specifications or measurements upfront makes the design experience as smooth as possible for all parties involved.  When specified or required to meet client expectations exact details regarding materials, colors, thicknesses, mounting surfaces, elevations are essential and job site inspections are compulsory.  Lastly, whenever unique conditions or environmental circumstances exist, this information should be conveyed to ensure these variables are taken into consideration during the design phase.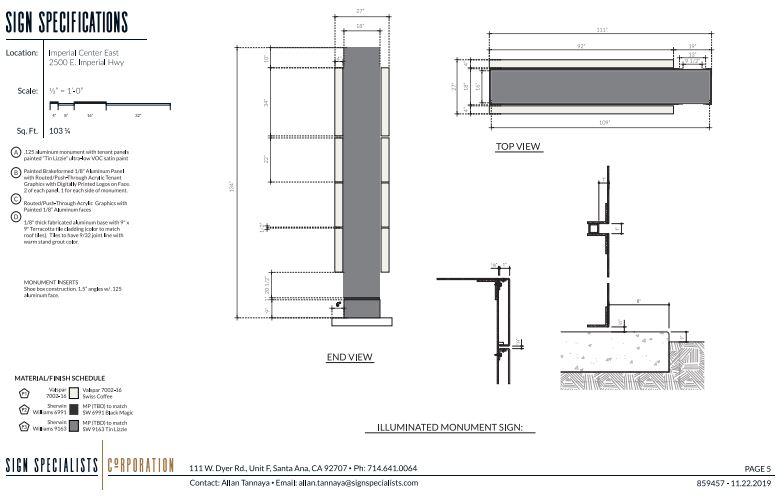 Depending on the input required, our Graphic Designers depend on both external and internal resources.  The primary conduit for information is the salesperson so the questions they ask and the responses they document, and share are critical.  Ultimately, they are the ambassador for the customer, so truly, the feedback and input of the customer is key.  When interpreting the project's scope, the Sales Representative is the go-to person if written instruction is unclear.  A verbal conversation between departments will occur and reference information is cross-checked.  Internal experts will be counted on for technical guidance related to fabrication methods and installation.  When one is assigned, the Project Manager schedules a kickoff meeting and design objectives along with unique fabrication and installation requirements are openly discussed with the entire team.  The PM will be called on during the project for decisions the Designer can't make on their own.  The combined collective experiences of our design team staff also make it possible for our Designers to reach out to their colleagues for guidance and input.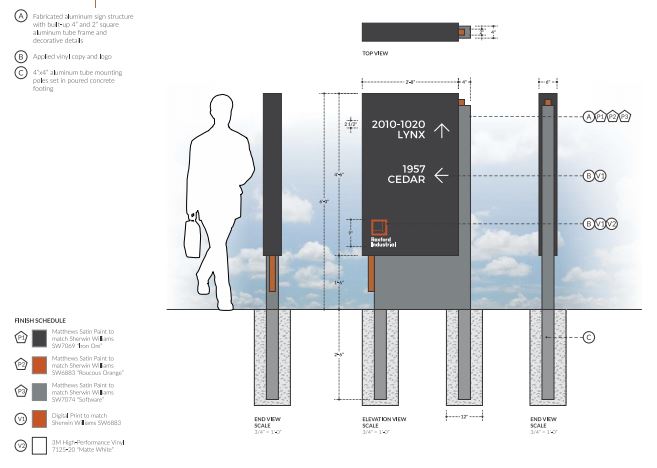 There are occasions when it is beneficial to get either the client, the sales representative or both onto a virtual call for collaboration.  Designers readily admit successful design requires communication, it affects the timeline of an entire project, and it is almost always a collaborative process.  For less complex projects, when the information in the Sales Order does not lead to a successful first submission, it is usually the best to check in with the client especially if their written feedback (email response) leaves margin for error.  For a design to be proposed, the Designer needs to know what the message is or what the customer is expecting.  Because the result is partly aesthetic, the quality of the design is in many ways subjective.  Often the best way to work through the likes or dislikes of a design presentation is to get on a call.  Once in a very great while the need for communication will come up during design, but most frequently, this occurs at the start of the design phase.  When the Designer, Sales or the Project Manager have varying interpretations it makes sense to schedule time with the client to get everyone on the same page to eliminate guesswork and reduce proof revisions.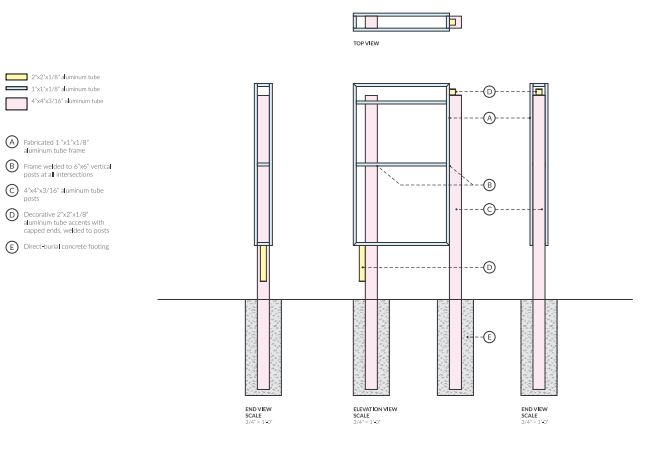 There are numerous design projects that our team has enjoyed working on and each Designer has their list of favorites or more memorable projects.  Our Designers enjoy projects that provide them the freedom to propose multiple design options for the client.  Projects that emphasize aesthetic values that are simply constructed can provide enormous satisfaction.  With the variety and volume of work that our company does there are many design projects that are easily forgettable.  Designers are assigned work based on their skill level and areas of expertise.  For some, or in some instances, 90% of the work is of the quick and easy nature so it goes by in a blur.  When a client for a planned sign program for a building in Glendale gave our Designer carte blanche for the sign details, they were very responsive and interactive with their feedback as the designs evolved.  At a time, the City of Glendale itself was re-evaluating their own criteria for Sign Programs.  When our designs were submitted to the planning department, they loved what they received from us and commented that they were contemplating using it as a template for other program submittals moving forward.  We created concept designs for the City Tower- Refresh with the objective of giving an existing outdated sign a fresh look.  The process of finding different materials was enjoyable because ideas were generated by referencing other modern signs built by us and other vendors.  These kinds of projects emphasize the need to feed the brain for ideas.  Large scope projects like Moreno Valley College offer new challenges.  This was the first time the assigned Designer came across thermoformed signage.  Experiences like this lead to learning about new methods and the possibilities those methods can lead to is thrilling.  When the Designer's work is valued and appreciated, it's always enjoyable.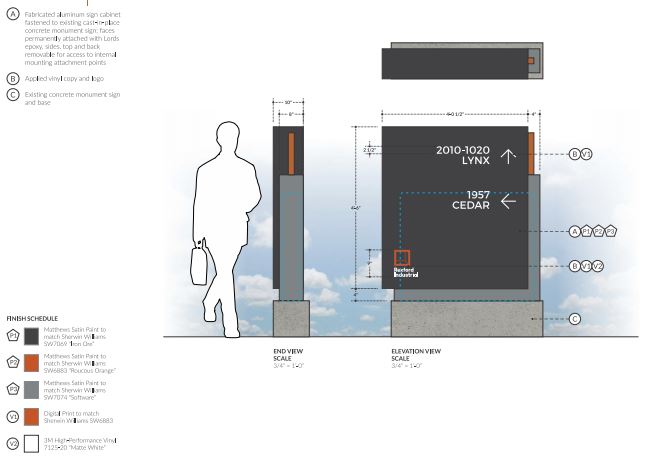 At its core, the purpose of the sign industry is helping people.  Either to point them in the right direction, provide awareness, let them know something's happening, or warn them of danger.  In conclusion, each Designer has different strengths.  Learning and leveraging those strengths collaboratively generates exceptional aesthetic solutions combined with great fabrication ideas.  They must always put themselves in the shoes of the client and assume they don't know anything about sign design.  The objective is to deliver a clear drawing to help them understand or imagine the solution that we are proposing.  The creation of quality designs takes time and feedback.  The combination of both contributes to a better result.  Designers must be constantly prepared for something new and strive to keep learning.  To tackle new challenges ahead they will bookmark reference materials from previous projects and learn to do repetitive tasks in a more efficient manner.  Even though they may sometimes reference a completely different design it can provide the advantage of not starting from zero.  They must keep updating reliable reference sources and removing outdated ones.  Although not all will seek it, like most people, they enjoy peer feedback on their work almost as much as customer appreciation.  There's no better feeling than getting a "thank you" email from a client that contains a glowing review of their work. That is a very rewarding thing for an artist whose job keeps him or her mostly behind the scenes.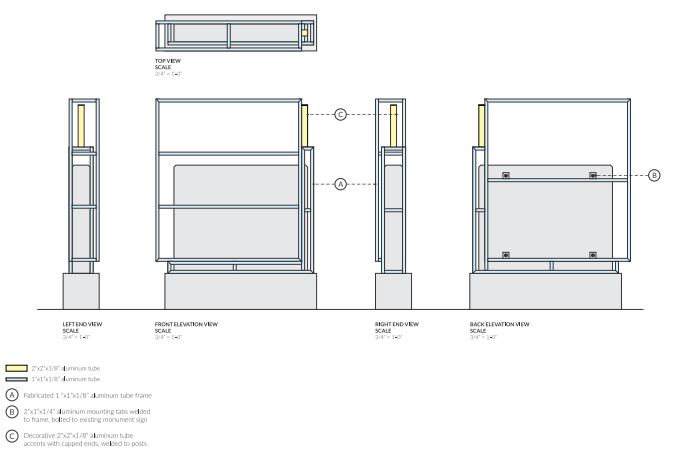 Thank you to the Sign Specialists Design Team for their contributions to the article!